Taking control of our future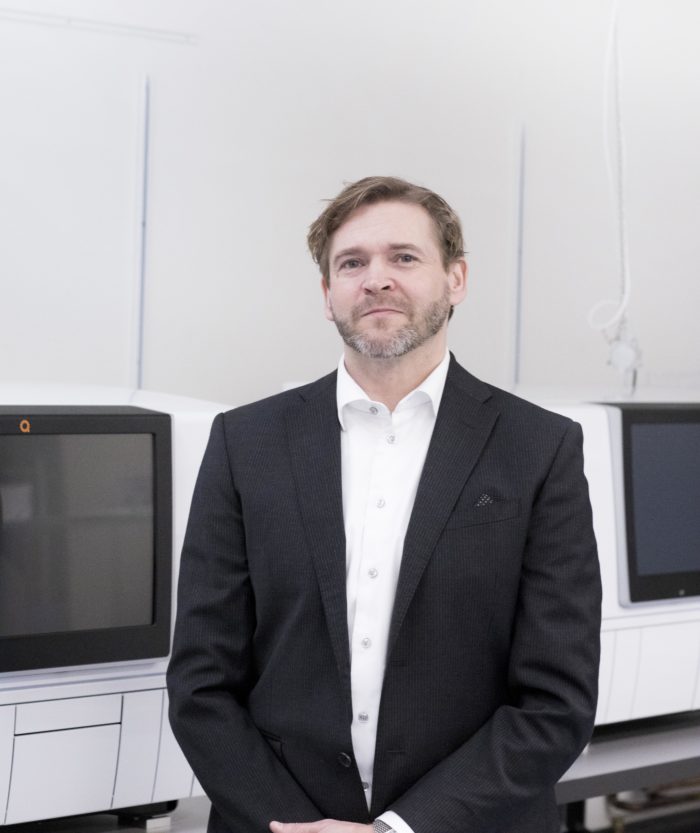 "Q-linea will take control of marketing and distribution of ASTar. 2023 will be a year of transformation, I remain convinced that we have a promising and exciting journey ahead of us."
After the end of the third quarter, we reached an agreement with Thermo Fisher Scientific to terminate the exclusive global distribution agreement for ASTar instruments and consumables. Thermo Fisher Scientific's ambition and long-term strategy in diagnostics have changed during the year, and the company will focus on its core media business.
As ASTar gets closer to approval and launch on the US market, Q-linea will take control of marketing and distribution on the important US market. Q-linea intends to approach the markets in Europe and USA with both an extended own commercial team as well as with partners.
Q-linea and Thermo Fisher Scientific will continue to cooperate on the numerous evaluations being performed by potential customers, both those currently in progress and those starting up, as well as with commercial customers. Thermo Fishers has prepared the market and we will take over the pipeline of potential customers that has been built. The reference testing partnership for clinical studies will continue as before. Naturally, the aim is for the transition from Thermo Fisher Scientific to Q-linea to be as smooth as possible for our customers.
Of course, it's Thermo Fisher's change in strategy is regrettable. At the same time, customer interactions during our period of cooperation mean we have evolved significantly on the commercial front and now have a clear idea of what needs to be done to succeed in the years to come. I look forward to building a company with a clearer focus on selling its own products, which will create significant future value. We have also seen continued strong interest in our products from other major companies in the market and will now be able to fully follow up on these discussions in the best interests of our shareholders.
Despite our confident outlook, this change of strategy together with the Covid-19 pandemic impact on customers' purchasing decisions in 2022, means we will adjust previous sales estimate of 20 ASTar systems for 2022 to around 10 and will not see this turn around until 2023. We are seeing many customers request comparative studies between ASTar and other available systems for rapid AST testing. We are in the process of joining several such studies to see how ASTar compares to the competition. Based on the data we've seen from individual evaluations, we are very much looking forward to seeing ASTar in large-scale comparisons of performance and workflow.
We see that health economics evidence (HEOR) is important to our European customers. It is therefore very gratifying that all the hospitals in our first major health economics study in Italy are now ready to begin. All the systems have been installed and the training and protocols are complete. We are waiting for a final ethics approval.
Our discussions with the FDA continued during the quarter, and we are now holding discussions on potential expanded testing. FDA has 90 days to examine our application, but it does not mean that the application is expected to be approved within 90 days. The "clock stops" when the FDA has a question or requests a clarification, which results in an extension of the time until approval. Similar products in the market have often had an approval time of 12 to 18 months. Of course, I hope that our review time will be faster than average since ASTar is classified as a breakthrough device by the FDA. Once we have received US market approval, we believe that clinical adoption in the US will go faster than it has in Europe so far given that the US market is generally faster to adopt new technology than the European market, espe[1]cially within rapid AST diagnostics. We have just returned from ID week in Washington with a strong interest for ASTar. We are currently in discussions with two major hospitals who would like to evaluate ASTar before FDA approval.
Commercial discussions regarding Podler continued during the quarter, and I will of course announce how the discussion progress as soon as possible.
Q-linea is undergoing a major change as we now clearly take control of our own future. This change means that 2023 will be a year of transformation and adjustment to our new situation but based on the reception we've seen in Europe so far, I remain convinced that we have a promising and exciting journey ahead of us.
Uppsala, 30 October 2022, Jonas Jarvius, President